Portable Restroom Rentals for Weddings
You have enough to worry about on your special day – don't let restroom accommodations for guests be on that list. Our team has you covered. Whether it is a small wedding or large, our luxury restroom trailers will do the trick. Call us and tell us how many people and we can handle the rest!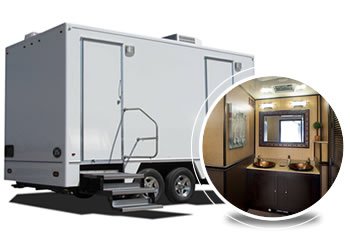 Portable Restrooms - Construction & Job Sites
A Flush Away makes it easy to focus on your job rather than the lack of restroom facilities. We provide everything from a standard porta potty to portable sinks, flushing units, urinals, and even portable waste and water tank services for your construction trailer.
We also carry high rise support equipment so your portable restroom can go wherever you go!
Portable Restrooms - Festivals, Parties & Events
Having a well planned strategy for restrooms and restroom placement is a plus for any outdoor event. From sporting events to races, community festivals or sponsored events – you need to be sure that restroom breaks are not causing people to leave. And, whether you are a seasoned event planner or this is your first time – we have the knowledgeable staff ready to help you plan every detail with your portable restroom needs.
Portable Restrooms - Government
Whether it is a Government sponsored event, remodeling, relocation or any other need – A Flush Away provides portable restroom solutions for local and state Government needs.